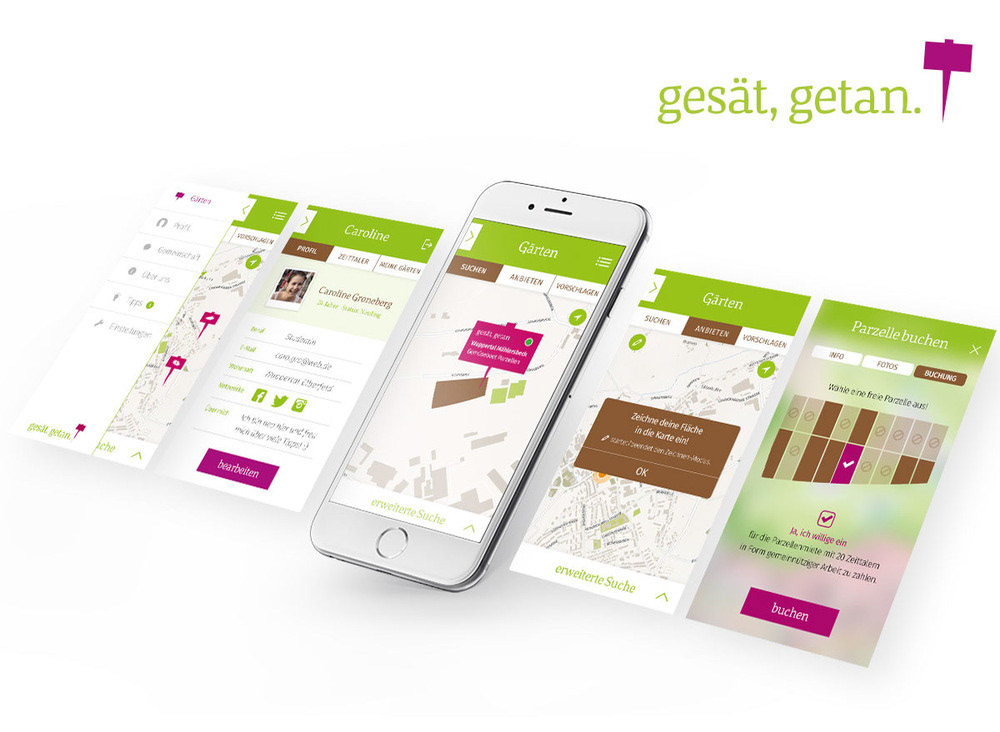 A non-profit association in Wuppertal had the idea of planting fallow lands in the city for using it as urban gardens. Citizens should get the possibility to rent a piece of land and to maintain and harvest it. I designed an interactive mobile web application which is called "gesät, getan" to spread the idea of urban gardening and connect users. The app makes it possible to locate, book and offer fields. As "gesät, getan" is a non-profit project, the payment for the rent is not made with money – users should rather have charitable commitments. Therefore, I invented the virtual currency "Time Coins" which can be managed within the app. Furthermore, the application contains an internal community with user profiles as well as news feeds with current tips about gardening. The flyers of the print campaign are printed on seed paper. After reading you can plant it, water it and wait until it flourishes – and thereby get a first impression about urban gardening.
Ein gemeinnütziger Verein in Wuppertal hat die Idee initiiert, Brachflächen in der Stadt zu Selbsterntegärten umzufunktionieren, die die Bürger mieten und bepflanzen können. Ich habe für dieses Projekt die interaktive Web-App "gesät, getan" entworfen. Diese hat das Ziel, potentiellen Interessenten den Gedanken des Urban Gardening zu vermitteln und Nutzer miteinander zu vernetzen. Mit der App können Flächen und Gärten ausfindig gemacht, gebucht oder angeboten werden. Da das Projekt ohne Gewinnabsicht, läuft sollen sich die Mitglieder gemeinnützig engagieren, anstatt Miete zahlen. Aus diesem Grund habe ich ein Zeitwährungssystem in die App integriert, mit dem die fiktive Währung "Zeittaler" verwaltet werden kann. Weitere Features sind eine interne Community mit Userprofilen und Newsfeeds mit aktuellen Tipps rund um das Thema Urban Gardening.
Analog soll eine Printkampagne auf das Projekt aufmerksam machen. Die Flyer sind auf Samenpapier gedruckt, welches ebenfalls eingepflanzt werden kann. So wird potentiellen Interessenten auf simple Art und Weise Lust aufs Gärtnern gemacht.